Contents | Detailed MP3 Audio | MP3 Raw Audio | Pix | Original Tape Titles | Footnote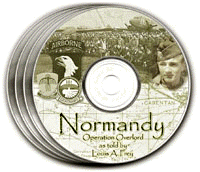 Lou created some audio tapes years ago starting with his childhood and peaking during the war. These discs are available for the family upon request. Due to the size of these tapes, MP3 compression format is used. Regular audio CD's are available for the primary war moments only. The MP3's come in two flavors: Original audio with detailed chapters (currently WWII battles only) or an MP3 CD with all of Lou's original audio from the original tape version. MP3 audio discs play on most DVD players, any computer and newer CD audio players. [ This part of the site is not quite finished as evidenced by the incomplete CD menus and photos... ]
MP3 CD Contents:

Disc 1
OPERATION OVERLORD
MP3 Track# / Title [ click for track detail ]
* STILL MIXING THESE TRACKS *
Disc 2
OPERATION MARKET GARDEN
MP3 Track# / Title [ click for track detail ]

01 England – Hint of Another Jump
02 Operation Market Garden
03 Creation of the First Airborne Allied Army
04 Prep and Jump in Veghel, Holland [Sept 12, 1944]
05 Warm Greeting in Veghel
06 Meet Brother Rene
07 A View Above
08 We Settle In
09 Our New HQ Farmhouse [Out on the Town]
10 The Brothers Take Care of Me and Sancquist
11 Still Waiting for the English
12 Germans Threaten Veghel Bridge
13 Patrol – Me, Sancquist, Newman (occasionally Dornic) go on night patrols – day resupply form C47's
14 New Friends – New Losses
15 Those Germans Can Be Mean!
16 The English Finally Arrive
17 English Pushed on to Nijmegen & Arnhem
18 Meanwhile Back in Veghel
19 We Move up to Nijmegen
20 Set up Observation Outside of Town – We setup along a dike to the Southwest of Nijmegen
21 Our Col. Johnson Get Hit
22 How to Acquire a Fresh Meal:
23 How to Silence an Alarm Clock – Tiger tanks can interrupt ones sleep at our observation post
24 Fools with Rafts
25 Market Garden Ends (Post to Veghel back to France)
Disc 3
BASTOGNE – BATTLE OF THE BULGE
MP3 Track# / Title [ click for track detail ]

01 Morning in Bastogne
02 The 501, 506 and the 502
03 Bizory
04 Newman and I Track Right
05 Newman Gets Hit in Farmhouse
06 F Company and the Boy (Paul)
07 Back in Bizory - HQ Established
08 Germans Attack Our Front Line
09 Surrounded - Cut Off From Bastogne
10 We Lose Sgt Pop Dornic - I Head S2
11 More About Paul
12 Back in Bastogne
13 E Company Takes a Beating
14 Check Out Foy - Kill a Tiger
Disc 4
LOUIS A. FREY - 101st AIRBORNE 501 PIR HQ, 2nd Bn S-2
All raw audio from the original tapes - One MP3 Disc

---
| | | |
| --- | --- | --- |
| 1. | A | 9 Louisa Street, New Orleans, LA 1920 – 1930 |
| | B | 3 Caffin Ave, New Orleans, LA 1930 – 1940 |
| | | |
| 2. | A | 603 Cafffin Ave, 1930 – 1940 |
| | | 4616 Arts St, New Orleans, LA 1940 |
| | | Army Dec 1942 – 1943 |
| | B | Camp Toccoa, Ga. – 1943 |
| | | Fort Benning,Ga.– Jump School |
| | | 501 Parachute Inf. Hq. Co. 2nd Bn. S-2-SEC |
| | | |
| 3. | A | Maneuvers In Tennessee, 1943 |
| | | Camp Miles Standish, Mass, Dec 1943 |
| | | England & France 1944 |
| | B | England & France 1944: |
| | | Camp at Hamstead Marshall |
| | | Newbury, England |
| | | D-Day Normandy, Operation Overlord |
| | | St. Come du Mount |
| | | St. Mere Englis |
| | | Carentan, June 8 – July 1944 |
| | | |
Click on thumbnail to enlarge
| | | | | |
| --- | --- | --- | --- | --- |
| In England 1944 before Normandy jump | Before Normandy and after training | Back Home | Parish 1945 after Normandy, Holland, Belguim, Haguenau, Buchloe & Berchtesgaden | Ice-cream after War & before quadruple bypass (dairy products are dangerous too - what can I say...) |
| Break at Home | | | | |
| | | |
| --- | --- | --- |
| | | |
| 4. | A | D-Day, Normandy, France, England |
| | B | Holland; Operation Market Garden Sept 1944 – Nov 1944 Veghel, Nimegen, Arnham Sept 10 – Nov 29 |
| | | France |
| | | Bastogne, Belgium; Battle of the Bulge Dec 1944 – Jan 1945 |
| | | Bizory, Foy Bourey |
| | | |
| 5. | A | Holland, Sept to Nov. 1944 |
| | | Bastogne, Belgium Dec 1944 – Jan 1945 |
| | B | Bastogne, Belgium Dec 1944 – Jan 1945 |
| | | France |
| | | |
| 6. | A | Bastogne |
| | B | France |
| | | Germany |
| | | |
| 7. | A | Home Dec 1944 |
| | | Going Back 1952 |
| | | Going Back 1984 |
| | | Going Back 1994 |
---
MP3 Track Detail:
Disc 1
OPERATION OVERLORD
MP3 Track# / Title [ still mixing tracks - detail under construction ]
Disc 2
OPERATION MARKET GARDEN
MP3 Track# / Title

01 England – Hint of Another Jump
Back at Hamstead Marshall in the middle of August/beginning of September we learn of another operation
02 Operation Market Garden
03 Creation of the First Airborne Allied Army
The First Airborne Allied Army consisted of the US 101st Airborne Division, US 82nd Airborne, Polish Brigade and the British 1st Airborne.
04 Prep and Jump in Veghel, Holland [Sept 12, 1944]
I jump but plane goes down before everyone can get out – we land just to the south of the town of Veghel
05 Warm Greeting in Veghel
06 Meet Brother Rene
07 A View Above
We see gliders of equipment overhead and the British who will be jumping further North, outside of Arnhem
08 We Settle In
09 Our New HQ Farmhouse [Out on the Town]
10 The Brothers Take Care of Me and Sancquist
I'm in tight with the brothers when Brother Rene sees my picture of the Child Jesus inside my helmet
11 Still Waiting for the English
82nd gets beat up – Hell's Highway is between 101st (501-Veghel, 502-Son & 506-Eindhoven) and 82nd (Grave/Nijmegen)
12 Germans Threaten Veghel Bridge
Germans want the bridge and we hold – P38's help us hold the bridge
13 Patrol – Me, Sancquist, Newman (occasionally Dornic) go on night patrols – day resupply form C47's
14 New Friends – New Losses
A new young friend gets killed by mortar fire while following us – I give his gift JMJ pen to Jimmy Sculley who dies of leukemia years later
15 Those Germans Can Be Mean!
German Major Taken Prisoner and I take him to HQ
16 The English Finally Arrive
17 English Pushed on to Nijmegen & Arnhem
We hold the road as the British motorized continue on to Nijmegan and Arnhem
18 Meanwhile Back in Veghel
19 We Move up to Nijmegen
After a few weeks we moved up to Nijmegen to help 82nd who had gotten beat up while also waiting for the English motorized infantry. They were given a smaller area to hold and we assisted with the rest.
I say my goodbye to Brother Rene as he presents me with a wooden souvenir windmill
20 Set up Observation Outside of Town – We setup along a dike to the Southwest of Nijmegen
HQ is set up in another farmhouse – we bury the owner
21 Our Col. Johnson Get Hit
He was our colonel from the first days at Taccoa, GA. After greeting us, he got hit by a random shell and died. He was replaced by our 2nd Battalion Commander, Robert Ballard.
22 How to Acquire a Fresh Meal:
A – Follow orders and do not kill local livestock
B – Tie local livestock in field where German artillery is known to land
C – Allow Germans to be the bad guys and shell the cows
D – Recover the dead livestock and have a barbque!
23 How to Silence an Alarm Clock – Tiger tanks can interrupt ones sleep at our observation post
A – Get maps from Dornic and find some C2 [or C4?] explosives
B – Sancquist and I Traverse the River to the German Observation [Factory Chimney]
C – Set explosives and drag fuse to orchard and wait
D – Blow the chimney and watch a beautiful demo job
E – Crawl and wait for countless hours to escape now alerted Germans
F – Enjoy the satisfaction of a job well done and sleep late back at the post
24 Fools with Rafts
25 Market Garden Ends (Post to Veghel back to France)
We move back – get in opened trucks and pass back through Veghel and onward back to our new camp France. No more England camps.
Disc 3
BASTOGNE – BATTLE OF THE BULGE
MP3 Track# / Title [ detail under construction ]

01 Morning in Bastogne
02 The 501, 506 and the 502
03 Bizory
04 Newman and I Track Right
05 Newman Gets Hit in Farmhouse
06 F Company and the Boy (Paul)
07 Back in Bizory - HQ Established
08 Germans Attack Our Front Line
09 Surrounded - Cut Off From Bastogne
10 We Lose Sgt Pop Dornic - I Head S2
11 More About Paul
12 Back in Bastogne
13 E Company Takes a Beating
14 Check Out Foy - Kill a Tiger
---
WHEN FICTION AND FACT CROSS PATHS
While on the subject of the telling of these true stories, it is interesting to note some of the best movies regarding the WWII European theater ever made involve the 101st Airborne. They include all three major European operations: the D-Day Normandy Invasion in France (Saving Private Ryan), Operation Market Garden in Holland (A Bridge Too Far) and The Battle of the Bulge in Bastogne (Band of Brothers – which actually encompasses all three battles and then some...)
This latter story follows a strong parallel relative to Lou's time in the 101st. The epic movie is based on the Stephen Ambrose's novel, "Band of Brothers – the true story which follows a specific 101st Airborne company throughout the war in Europe. If you wish to get a feel for Lou's time in the military, you should watch this film series. Although they were in different regiments, they all ran 'til they dropped at Curahee Hill at Camp Toccoa, GA., learned to jump at Fort Benning, GA, and finally fought at the same time, same or similar battles and towns across Europe. Lou Frey was in the 2nd Battalion of the 501st Regiment of the 101st Airborne Division. As an S2 intelligence officer, he did not solely belong to a specific company like the Band of Brothers Easy Company but rather HQ. Joining the 506th Band of Brother's E Company and Lou's 501st was the 502nd Regiment with a glider infantry (the 327th) and artillery battalion (377th) further supporting the Screaming Eagles.
The character from which "Saving Private Ryan" was adapted was actually in Lou's Regiment – the 501st. The real "Private Ryan was Sergeant Niland from New York versus the fictitious mid-west. Fr. Sampson discovered Niland's predicament in Normandy versus an army clerk in the movie. For more information about this story, see "101st Airborne – The Screaming Eagles at Normandy" by Mark Bando.